Shopping Cart
Your Cart is Empty
There was an error with PayPal
Click here to try again
Thank you for your business!
You should be receiving an order confirmation from Paypal shortly.
Exit Shopping Cart
Fort Myers, Cape Coral, Lehigh A, Alva, Immokalee, COUPLES MASSAGE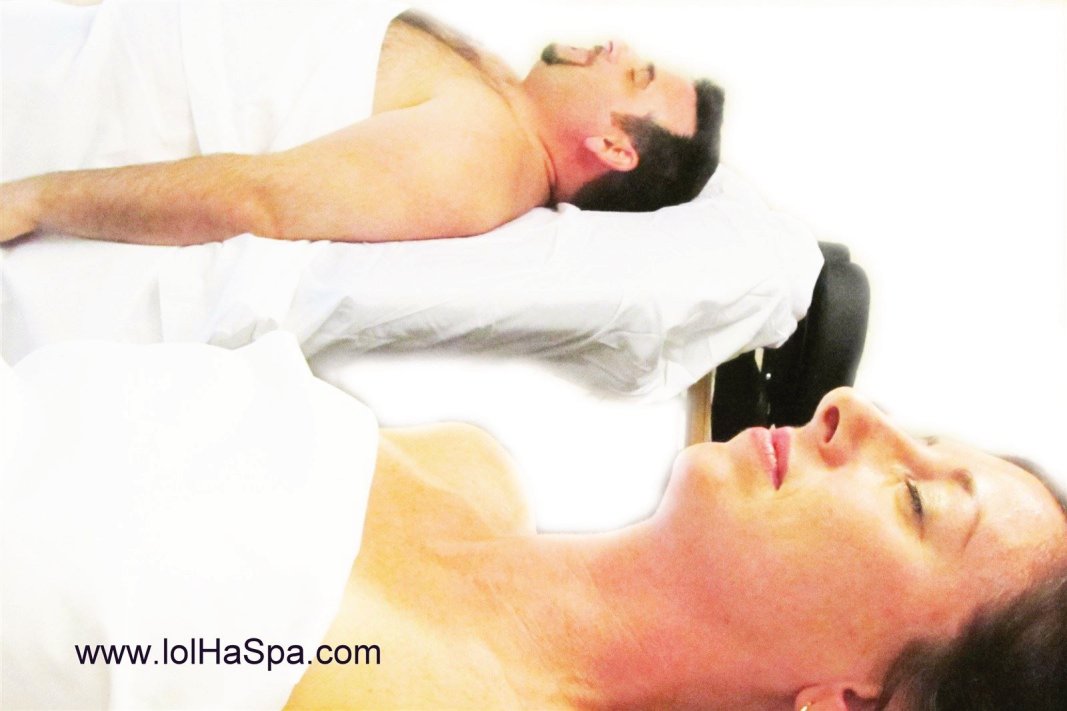 Therapeutic touch is very relaxing and restorative. Among the many benefits of massage therapy are improved concentration, sleep, and elimination of toxins.  For new clients, or someone who is new to massage, we highly recommend selecting the Couples Massage for your introduction into professional massage therapy.  Many 
Lool Ha Spa
 established long-term clients experienced one of our Couples Massages as their first professional massage. Our Couples Massage consists of two people both receiving massages by different massage therapists in the same room.  The two people may be a husband and wife, girlfriend and boyfriend, friends, mother and daughter, etc. 
Receiving a massage in pairs, or in the company of another, allows many recipients to obtain a higher degree of relaxation.  Romantic couples share that this experience heightens their intimacy; many reach out and hold the hand of their partner during their massage; allowing them both to experience that deeper connection.  One couple stated that their Couples Massage is their "special time where we get to enjoy something in common".  Come enjoy this extraordinary experience today in the relaxed, safe and reliable atmosphere of 
Lool Ha Spa!
Our licensed massage therapists, Luis and Maite, are a married couple who know the importance of having a good first experience in massage.  Together they have perfected their routine, which incorporates stretching and moderate pressure into the massage; all of which will make your experience unforgettable and beneficial to your physical and mental health.  Maite and Luis have designed their couples massage room to provide clients with the perfect environment to relax and make that human connection with their partner; allowing the healing touch of massage to become the ultimate holistic mind and body medicine.  All of the massage rooms at Lool Ha Spa are private; you will not feel like just another person in the chair of a large warehouse or stadium.  We focus on the human aspect of massage; ensuring that you are treated with respect and professionalism throughout your entire therapy session. Clients disrobe to the level they feel comfortable and only the body part(s) which are being worked on will be uncovered during the course of their massage. 
We offer three Couples Massage options: 
COUPLES MASSAGE
:
Soft pressure massage applied with lotion and /or hypo- allergenic oils ensuring maximum serenity and stress relief
ULTIMATE COUPLES MASSAGE
:
This ultimate relaxation experience includes the application of hot towels on your feet and back as well as reflexology in your hands or feet during your massage.  In addition we incorporate the added benefits of aromatherapy, allowing you to select between different natural essential oils.  Essential oils exist naturally in aromatic plants.
Please contact us today to schedule your massage at (239) 603-3775
COUPLES MASSAGE: dos personas reciben masaje por diferentes terapistas en la misma habitación.
Pudiendo ser esposo y esposa, amigo y amiga, novios, mama e hija.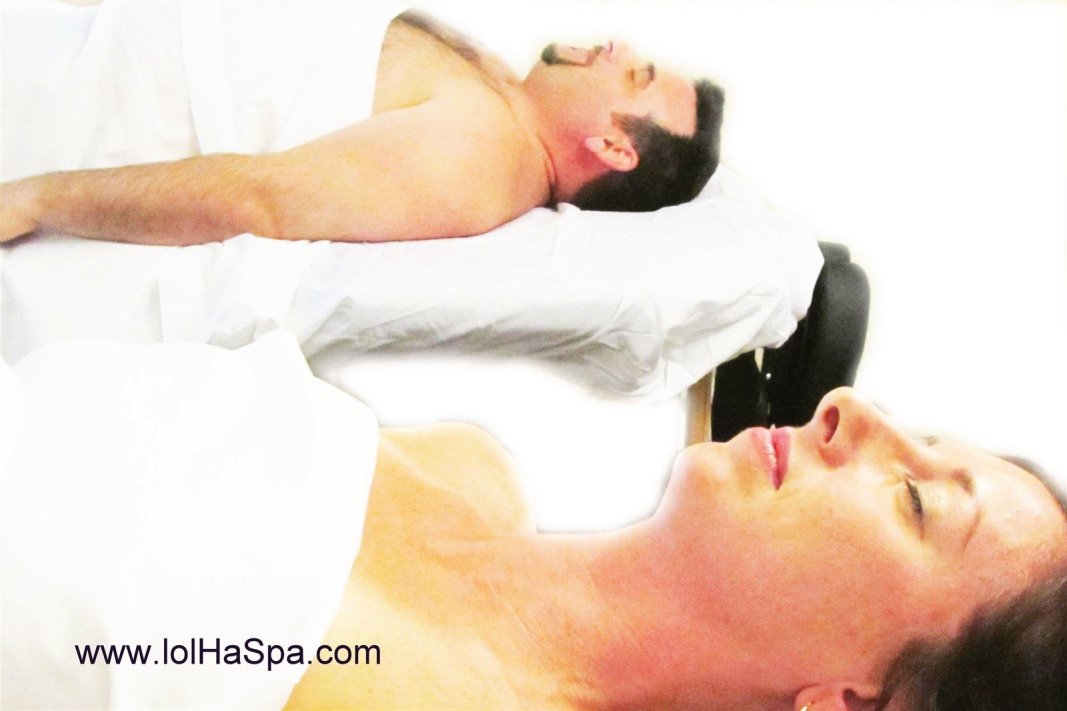 Es una excelente introducción para recibir un masaje profesional por primera vez. 
Para muchos de nuestros clientes ha sido el primer masaje profesional que han  recibido, nosotros somos una pareja casada los dos licenciados en terapia de masaje y sabemos la importancia de tener una buena primera experiencia en el masaje, hemos perfeccionado nuestra rutina, donde incluimos en nuestra terapia de masaje, estiramientos y presiones moderadas que harán de su experiencia algo inolvidable y benéfico para su salud, durante la terapia estará usted cubierto, solo la parte que trabajamos será descubierta. Son muchos los beneficios físicos terapéuticos que se reciben con el masaje y si se recibe masaje en compañía de otra persona se alcanza un alto grado de relajación, para muchos de nuestros clientes se ha convertido en su tiempo como pareja, en ese "tiempo y algo en común" que hacía falta.
El toque terapéutico es muy relajante  y restaurativo. Ayuda a mejorar su concentración, conciliar el sueño , eliminar toxinas, son muchos los beneficios de el masaje en parejas, los que ya han tomado masaje de pareja en
LOOL HA SPA
, recomiendan a otras personas para que disfruten la experiencia en un a
mbiente relajado, seguro y de confianza
, además de ser una extraordinaria experiencia. Nuestro cuarto para masaje de pareja, está diseñado para que no se sienta usted solo en una silla dentro de un estadio de futbol, trabajamos con el aspecto humano, usted puede tomar la mano de su pareja mientras ambos reciben masaje haciendo una conexión total, el tacto se convertirá en la mejor medicina holística mente-cuerpo-espititu, integración total, ninguna maquina suple el contacto humano.
 Ofrecemos tres estilos de masaje en pareja,
1.-COUPLES MASSAGE . masaje de relajación aplicado con loción y/o aceite hipo-alergenico presión suave
2 .-HOT STONES COUPLES MASSAGE. Masaje relajante con presión media, el calor penetra a través de la presión y frotamiento con piedras calientes.
3.-ULTIMATE COUPLES MASSAGE.   Lo último en experiencia de relajación, incluye selección entre diferentes aceites aromaticos. aplicación de toallas calientes en pies y espalda , reflexología en manos y/o pies. Aromaterapia con productos do Terra. 
Have you ever wondered what your life would be like if you lacked the ability to smelling. Sure, it whitethorn not seem as difficult as trying to navigate a room while blindfolded, or attempting to perform daily tasks without using your thumbs, but you would still be missing a lot. For one thing, your common sense of taste would go come out of the closet the window, too. For another, your brain is wired to interpret signals from your olfactory center to tell you what pleasures or hazards English hawthorn be lurking in your surroundings. 
In fact, you could say that much of what you know about the world, and how you relate to it, depends on your good sense of olfactory property. Olfaction is the only gumption fully developed at birth in humans, and it plays an important role in an infant's ability to recognize and bond with his or her mother. Even the "chemistry" felt between two adults Crataegus laevigata be prompted by aroma. Scientists rich person identified substances called pheromones in human consistency olfactory property that act as chemical messengers to the brain to stimulate, among other responses or behaviors, sexual attraction to a potential mate. 
With at least 5 million odor-sensing cells lining the nasal bone passages, the nozzle seems to be well-equipped to observe smells on its own. Merely, approximately scientists speculate that, like other animals, citizenry Crataegus oxycantha also wealthy person a os nasale sensory device known as a vomeronasal organ that helps them to find these subtle fragrance molecules. There's little doubt that certain odors tin give birth a direct impact on the way we think and feel. The odour of freshly baked bread, for example, May conjure up fond memories of home and hearth. Other scents, such as floral or spicy aromas, induce a romantic mood. 
So recognized is this impression that many European and Asian facilities ar investing in "indirect perfuming" to enhance productivity in the workplace and to promote recovery in hospitals. As Miczak points , "Having something used on you that has a aroma that you find personally pleasing tin can sometimes give a better force than essential oils indicated for rub down." According to Miczak, the about common oils used in knead bergamot, rose, chamomile, frankincense, geranium, lilac, neroli, and sandalwood -- "mostly because they non-irritating to skin and pleasing to almost multitude." If you're just starting buying essential oils, Lool Ha Spa recommends do Terra
You can find with us , Totally natural oil  
¿Tiene dolor de espalda frecuentemente? El dolor de espalda es una dolencia común, sin embargo, las personas pueden mejorar dentro de unas pocas semanas a través de masajes. Todos los beneficios del masaje como mejorar el flujo sanguíneo y alivia la tensión, proporcionando así la relajación de los músculos. Mientras masajes suaves son agradables, no necesariamente ofrecen alivio a los que sufren de dolor lumbar agudo. La combinación de masaje con otros tratamientos, como la terapia física y quiropráctica, es probable que produzca mejores resultados. Además, masajes en la espalda, en combinación con tratamientos no médicos como
Microlight & Microcurrent
,ejercicios, y una buena dieta, asegura el alivio del dolor gradual. En
Lool Ha Spa
estamos dispuestos a promover el alivio del dolor de espalda.

Beneficios de la terapia de masaje de espalda
De acuerdo con la American Massage Therapy Association, la investigación demuestra que la terapia de masaje ofrece muchos beneficios para la salud, incluyendo:
Mejora de la circulación de la sangre en el cuerpo, que ayuda en la recuperación del dolor muscular debido a la actividad física.
La relajación de los músculos para un abanico más amplio de movimiento. La relajación muscular también ayuda en el tratamiento del insomnio.
El aumento de los niveles de endorfinas. El aumento de los niveles de endorfinas es en realidad uno de los mayores beneficios de la terapia de masaje. Las endorfinas son sustancias químicas del cuerpo que le dan una sensación de sentirse bien, que es muy eficaz en el tratamiento del dolor crónico.Siempre con la ayuda del terapeuta con licencia.
Es importante asegurarse de que las precauciones se ejercen durante la recepción de la terapia de masaje. El músculo se relaja en respuesta a la presión aplicada por un terapeuta de masaje certificado, en ausencia de los cuales, es posible que los músculos se inflaman. En tales casos, no se debe optar por masajes en la espalda como una opción de tratamiento y consulte a su / su médico para el tratamiento. La mayoría de los espasmos musculares requieren cuatro tratamientos de masaje, por lo general se distribuyen en un período de cuatro semanas, para lograr mejores resultados. Si los espasmos musculares no responden a la terapia Neuro-muscular dentro de dos masajes, pruebe a utilizar otro tratamiento.Visítenos en
www.lolhaspa.com
o llámenos al (239) 603 3775 podemos adaptar un programa especial sólo para usted, estamos ubicados en Lehigh Acres cerca de Fort Myers y Cape Coral Si usted tiene dolor de espalda severo, se recomienda que se someta a examen médico completo antes de comenzar la terapia de masaje.
/